Our exFAT File System is compliant with Microsoft's exFAT Specification and we are an official licensee of Microsoft for exFAT solutions. We have leveraged our 25+ years of experience with file systems to create a small and efficient implementation that is ideally suited to embedded applications.
Why Use exFAT?
By using our Embedded solution for the Microsoft exFAT File System, you can avoid the inherent limitations of the FAT32 specification. exFAT support file sizes and storage media limits that greatly exceed the capacity of any storage media in existence today. To summarize, exFAT supports:
Storage media of any size, up to 128 PiB (128 x 250 bytes)
Max file size: 128 PiB (128 x 250 bytes)
Long file names: up to 255 characters long, using the UTF-16 character set
Multi-Language support using the UTF-16 character set
Features of our exFAT File System
Coded to MISRA 2012 guidelines
OS and device independent so easily ported to your environment
Optimized for indexing and playing media files
Small foot print
Read only version available
Architecture
Below is the architecture diagram for our Embedded exFAT File System implementation.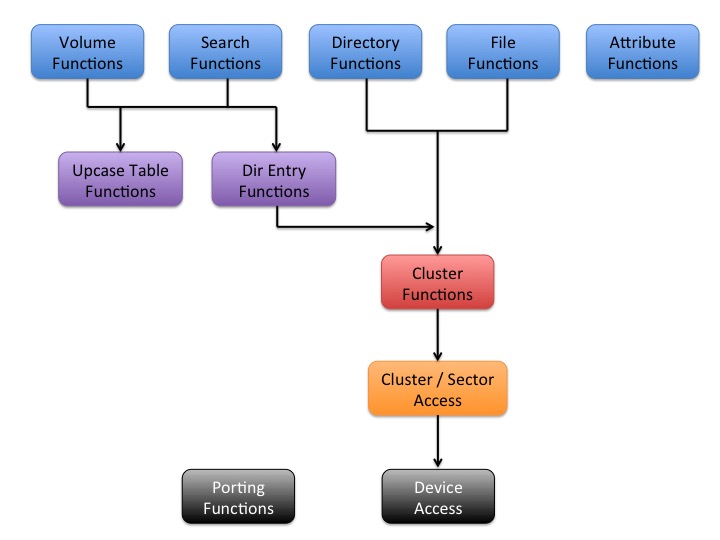 API Function Calls for Read only version
The API for the exFAT File System includes the following groups of function calls, organized in an intuitive and consistent structure facilitating rapid integration with your application code. exFAT is delivered with complete source code.
Volume Functions

mount an exFAT volume
unmount an exFAT volume
obtain the name for the exFAT volume
obtain the attributes for the exFAT volume
obtain the statistics for the exFAT volume

Directory Functions

open a directory
open a directory based on a file attributes structure
read the next directory
rewind a directory
get parent directory
get the volume of a directory
close a directory

File Functions

open a file
open a file from the file attributes
obtain the attributes of a file
read data from a file
move the read position for a file
set read position to the start of a file
determine if read position is at the file size
obtain the size of a file
close a file

Search Functions

Initialize a search context for a directory
Initialize a search context and find first matching file
find the specified file or directory by name
match any/all files and directories to match criteria
compare file name to match criteria

Atribute Functions

determine if directory attribute is set
determine if file attribute is set
determine if read only attribute is set
determine if hidden file attribute is set
determine if system file attribute is set
determine if archive file attribute is set

Upcase Table Functions

convert a unicode character to upper case
compare tow file names
convert a compressed upcase table to decompressed
read the upcase table

Directory Entry Functions

move to the next directory entry
seek to a specified directory entry type
seek to the next file directory entry set
read next file from directory

Cluster Functions

set the current position to the file start position
obtain the next cluster
increment current position

Set Access Functions

read multiple sectors from device
allocate and initialize a sector buffer
free a sector buffer
read a single sector from the device
calculate absolute sector number
read the specified sector of a cluster